Chick Pea Salad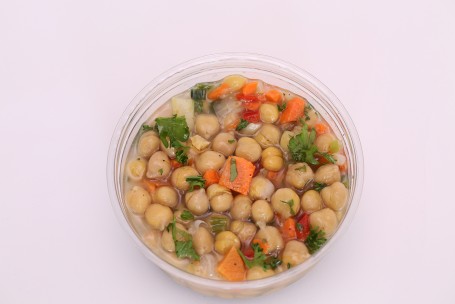 Canadian chickpeas boiled to perfection in-house and mixed with the finest vegetables. Topped with a zesty lemony dressing, it makes an excellent meal or side dish….Enjoy!
UPC Code: 67623501046
Life Shelf: 21 days
Chick peas, carrots, celery, green and red peppers, parsley, green onions, lemon juice, spices and sea salt.
Salads
Nutrition Facts
Per (1259)
Amount
% Daily Value
Calories 120
Fat 6 g
10 %
Saturated 0.5 g + trans 0 g
3 %
Cholesterol 0 mg
Sodium 360 mg
15 %
Carbohydrate 13 g
4 %
Fiber 3 g
7 %
Sugars 2 g
Protein 4 g
Vitamin A
15 %
Vitamin C
80 %
Calcium
2 %
Iron
7 %