Lentil Salad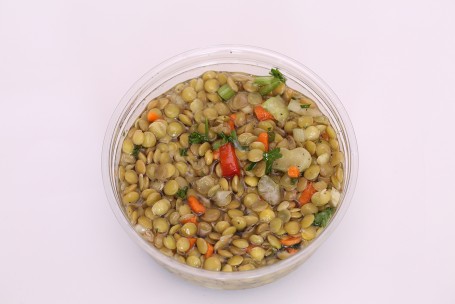 This salad is delicious and rich in iron. It is made and delivered fresh daily. We use the best available vegetables and the best lentils….cooked to perfection. it is great….Enjoy!
UPC Code: 67623501043
Life Shelf: 21 days
Organic lentil, celery, carrots, green and red peppers, parsley, green onions, lemon juice, sunflower oil, spices and sea salt.
Salads
Nutrition Facts
Per  1/2 cup (125 g)
Amount
% Daily Value
Calories 180
Fat 14 g
21 %
Saturated 1 g + trans 0 g
5 %
Cholesterol 0 mg
Sodium 290 mg
12 %
Carbohydrate 22 g
7 %
Fiber 5 g
21 %
Sugars 11 g
Protein 6 g
Vitamin A
10 %
Vitamin C
25 %
Calcium
4 %
Iron
20 %