Armenian Salad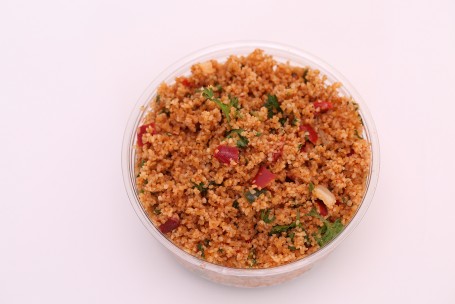 High in fiber and delicious, this spicy salad is a perfect meal for lovers of spicy foods. Enjoy it as a salad or side dish….
UPC Code: 67623501039
Life Shelf: 21 days
Burgul (cracked whole wheat), tomato puree, green and red peppers, onions, water, parsley, fresh garlic,chili puree, lemon juice, sunflower oil, spices and sea salt.
Salads
Nutrition Facts
Per  (125 g)
Amount
% Daily Value
Calories 180
Fat 5 g
7 %
Saturated 0 g + trans 0 g
0 %
Cholesterol 0 mg
Sodium 350 mg
15 %
Carbohydrate 24 g
8 %
Fiber 10 g
38 %
Sugars 0.15 g
Protein 6 g
Vitamin A
25 %
Vitamin C
50 %
Calcium
6 %
Iron
18 %